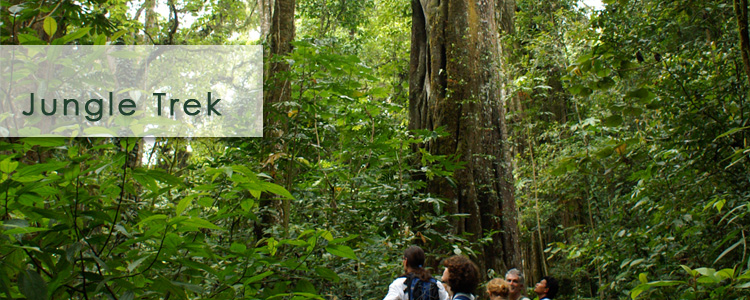 Jungle Trek
"I would highly recommend the jungle tour run by Bali Budaya. We trekked through some amazing jungle and lake scenery. We visited hidden temples and a very traditional village. Our guides were informative, friendly and allowed us to engage with the local people. Ten out of ten"….Cain Pettigrew, Glenelg, Australia.
Join us on a trek through virgin South East Asian rainforest by stunning crater lakes nestled in the central highlands of Bali. Driving deep into the heartland of Bali our trek begins by descending the steps to an ancient temple guarding the entrance to the timeless beauty of virgin rainforest that is part of a Balinese National Park lining a stunning crater lake.
Venturing into another world under the canopy of enormous trees we encounter the wide variety of flora thriving in this unique environment: orchids, ferns, palms, fungi, vines, creepers, strangling figs and ground cover. The delightful sounds of abundant birdlife is constant and only the clamour of monkeys interrupts their melodies. Beautifully coloured butterflies flitter through undergrowth, squirrels scurry from branch to branch in the canopy and occasionally, miniature deer are seen on the track leading through the rainforest. There is also a program to protect, breed and reintroduce the endangered South East Asian eagle in the area and you can view their large nests in the breeding season.


Our experienced guide leads you through this wonderful world of nature pointing out plants and flowers of interest, explaining their benefits to mankind and to local fauna and stops to show you the best views in the area. After trekking through the rainforest we arrive at another ancient temple on the edge of the lake and have a short rest and snack/fruit break. We then trek along the lakeside and get a different view of the flora and fauna living in this stunning environment.

Weather permitting, we return by dug-out canoe, with two hulls lashed together with wood to create a stable bi-hull (catamaran-style). A freshly cooked picnic featuring fish from the lake and local farm produce awaits by the lake-shore. After resting to enjoy the lakeside calm, we drive back along a spectacular spur overlooking two crater lakes where we see monkeys playing in the forest by the side of the road. On the way home, you can opt to stop at a local strawberry farm, a lakeside pagoda or a market selling fruit, flowers and other local produce. This is a full day tour. Pick up in the morning is dependant on where you are staying. Our booking calendar provides a tentative start time, but this will be reconfirmed with you one day prior to the tour.
Tour includes pick up and return to your hotel by air conditioned car, ample water and snacks on tour, Indonesian buffet lunch, English speaking guide and All entrance fees. Note that we require at least 4 guests to run the tour.